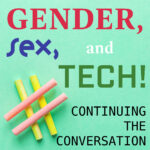 In this episode, Jill interviews Jennifer Hites-Thomas about her research regarding the ways technologies of discourse are employed to gatekeep access to surgical technologies for trans folk, while enabling access for cis folk. Examining the role discourse of authenticity plays, as well as pre-conceived notions of naturalness, Jennifer discusses how this gatekeeping is maintained, and what it might reveal about the social assumptions that exist regarding cis men.
Transcript can be found here:
https://gendersextech.opened.ca/2022/07/08/transcripts-for-episode-ten/
References:
Fausto-Sterling, A. (2000) Sexing the body: Gender politics and the construction of sexuality Basic Books.
Kessler, S.J., (1990) "The medical construction of gender: Case management of intersexed infants" Signs: Journal of Women in Culture and Society, 16(1), 3-26. https://doi.org/10.1086/494643.
Travers. (2018). The trans generation: How trans kids (and their parents) are creating a gender revolution. New York University Press.
Gill-Peterson, J., (2014) "The Technical capacities of the body: Authenticating trans identity narratives." TSQ:Transgender Studies Quarterly, 1(3), 402-418.
Garner, T., (2017) "(De)pathologization: Transsexuality, gynecomastia, and the negotiation of mental health diagnoses in online communities." in M. Morrow and L.H. Malcoe (Eds.) Critical inquiries for social justice in mental health. (285-311) University of Toronto Press.
Lawrence, A., (2003) "Factors associated with satisfaction or regret following Male-to-Female sex reassignment surgery" Archives of Sexual Behaviour 32, 299-315 https://link.springer.com/article/10.1023/A:1024086814364
Bowman, Cameron, and Joshua M. Goldberg. 2006. "Care of the Patient Undergoing Sex Reassignment Surgery." International Journal of Transgenderism 9 (3–4): 135–65. https://doi.org/10.1300/J485v09n03_07.
https://interactadvocates.org/

Davis, Georgiann, Jodie M. Dewey, and Erin L. Murphy. 2016. "Giving Sex: Deconstructing Intersex and Trans Medicalization Practices." Gender & Society 30 (3): 490–514. https://doi.org/10.1177/0891243215602102.

https://www.florenceashley.com/academic-publications.html

Stryker, Susan. 2006. "My Words to Victor Frankenstein Above the Village of Chamounix: Performing Transgender Rage." In The Transgender Studies Reader, edited by Susan Stryker and Stephen Whittle, 1st ed., 244–56. Seal Studies. New York: Routledge.