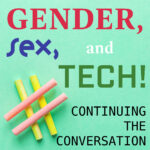 In this epsiode, Jill interviews Jessica Polzer about her research with Anna Sui, Kelly Ge and Laura Cayen on menstrual and fertility tracking apps (also known as MFTA's). What do we gain by the datification of embodied experiences, and what might we lose? How apps marketed and promoted, and what might we learn from these marketing techniques?
Transcripts can be found here:
https://gendersextech.opened.ca/2022/06/24/transcript-for-episode-eight/
References:
Foucault M (1978) The History of Sexuality: An introduction (vol. 1) Vintage Books.
Gill, R. "Mediated intimacy and postfeminism: A discourse analytic examination of sex and relationships advice in a Womans' magazine" Dsscourse and Communication 3(4) https://journals.sagepub.com/doi/10.1177/1367549407075898
Andrea Tone on the evolution of contraception.